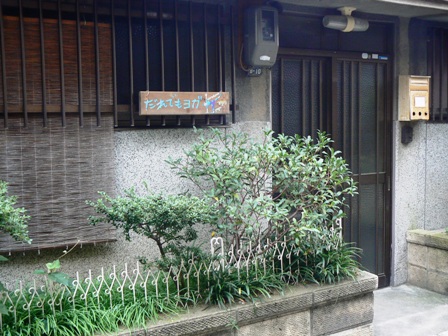 English text follows Japanese.

数年前の話です。


とあるロンドンのコーヒーショップでヨガスタジオを日本でオープンするという私の夢を友人とお喋りしましてー。

どんな感じのスタジオで、また私のコンセプトについても話し合ったものです。

私は古い日本家屋をスタジオにするというイメージが昔から頭の中にあって、もともとは「町家」をスタジオにしたいと思っていました。

皆さんもご存知の通り、「町家」は伝統的な日本家屋で京都といった古都に多く見られます。

特色のある建物で例えば「猿戸」という玄関口は平均身長の日本人でも腰をかがめないと通れません。

また、格子戸や窓も特徴的です。

とにかく、私のスタジオが古い日本家屋に収まったのは確かです。

というか、「古い」と言えば、まだ聞こえがいいですが、本当は「ぼろっちい」という表現の方が適切かも・・・

あはは・・・

残念ながら「町家」ではないですが、それでも変な魅力があります!

でも要は、スタジオの外観よりもコンセプトの方が大切でしょ?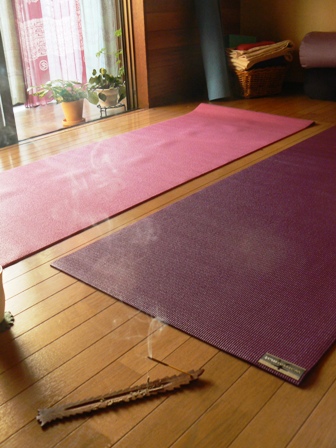 友人との会話の内容に戻りますが、私のコンセプトについて訊かれた時、最初に頭に浮かんだ言葉は「敷居が低い」でした。

つまり親しみやすく、誰でも簡単にヨガが出来る場所を提供したいと思ったのです。

年齢に関係なく、身体が硬い人も、柔らかい人も、男性でも女性でも、日本人でも、日本人以外でも、お上品な人も、普通の人も、誰でも気楽に敷居が跨げて、心から歓迎されていると感じられる場所・・・

「だれでもヨガ」という名前にはこれらの思いが込められています。

「洗練」という言葉からは程遠いですが、居心地がよく、とってもピースフルです:)

生徒の皆さんは同意して下さるでしょ?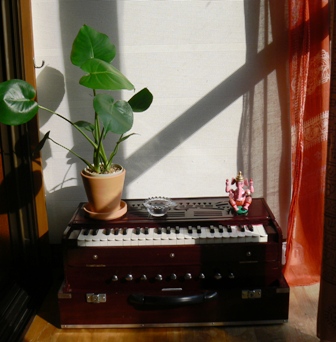 Everyone is welcome
A few years ago, at one of the coffee joints in London, I was having a conversation with a friend of mine about my dream of setting up a yoga studio in Japan.

We talked about what sort of studio I had in my vision and what my concept would be.

I always had an image in my head that my studio would be an old Japanese house and, well, I originally wanted a "machiya".

Machiya is a traditional Japanese style house you would see a lot in an old town like Kyoto.

It is full of characteristics such as a tiny entrance called "sarudo" that even an average height Japanese needs to duck his/her head to enter.

Latticed doors and windows are another distinctive feature.

Anyhow, I ended up with an old Japanese house for sure (perhaps, "old" is euphemism and "run down" is a more accurate description…), not quite "machiya", but it has a quirky charm nonetheless :)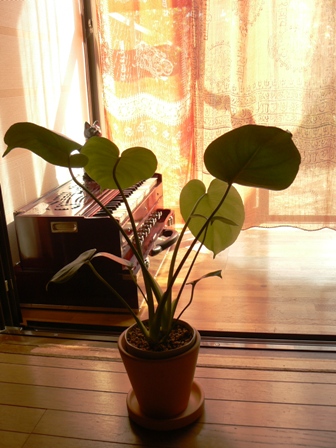 But that is only a trapping, and the concept for the studio is more important, right?

Back to my conversation with my friend, when she asked me what my concept would be, the first thing popped into my mind was that "shikii ga hikui" in Japanese – its literal translation for English is that "the entrance threshold is low."

This saying originated from the time when doorsills of most of the houses were set well above the ground level so that the legs needed to be lifted higher to cross over the entrance.

The higher the doorsills were, the more forbidding and awkward to enter.

If they are set low, it's obviously easier to enter – so "shikii ga hikui" means that no one feels awkward or unwelcome.

I wanted to create a studio where everyone feels welcome – whether you are old or young, whether you have a flexible body or stiff body, whether you are male or female, whether you are Japanese or non Japanese, whether you are posh or down to earth.

Hence the name "daredemoyoga" – yoga for everyone.

The place racks in sophistication, but it is welcoming and peaceful.

I hope all my students agree with me :)
---